Alexandra Park Junior School's SEND Local Offer
For more information regarding SEND please contact the school SENCO Miss H Varley.
SEND Policy 2017 – 2018 W Update
SEN Information Report 2017 – 2018 2
http://www.oldham.gov.uk/admissions
Links to Support and Advice Services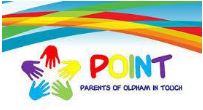 Parents of Children in Touch
A parent forum for families of children and young people with additional needs.
Oldham IAS Service
Oldham SEND Information Advice Support Service
https://www.point-send.co.uk/Pages/Category/oldham-sendiass
SEND Workshops & Training Service

Oldham Local Offer
A directory of services for children and young people with special educational needs and disabilities.
http://www.oldham.gov.uk/info/200368/children_with_disabilities
Family Information Service
A family information service where help, advice and support is given to parents and carers for children aged 0 – 20 years old.